Discover more from Nicci's Notes
A weekly mashup of reflections on writing, motherhood, and what it means to be a human in this messy world. Equal parts empathy, deep breaths, and levity.
Your Weekly Dose of EEE #23: All the Things I Should Be Doing
And, When We Were Mothers featured on the radio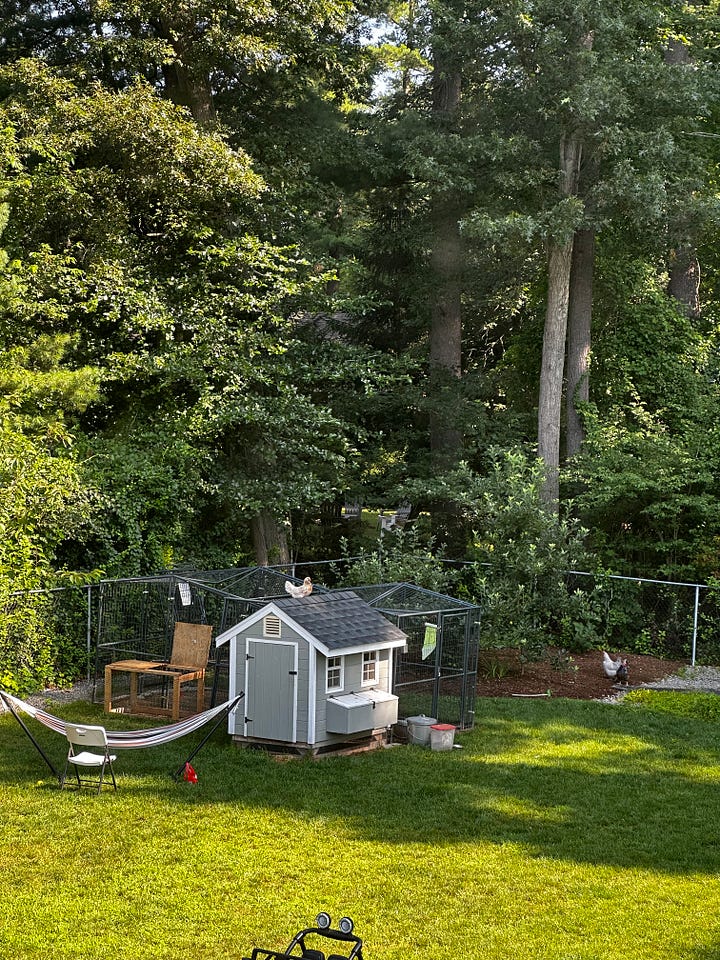 Mood: Compelled to delineate my to-do list as a show of all the things I should be doing
View: Three of our six chickens free-ranging in the back yard, vigilant against the shadow of the hawks that live in the woods behind us
Hey there,
I missed you on Wednesday. I could say my absence was intentional, as I know you were in fabulous hands on Monday with
and her
lovely story
about how we often use labels not just to classify but to exclude. But really, I just didn't have the time to write an essay. And man, did I have a great one planned! But it will come soon enough.
My week has been full once more: beach day, desk time, reading time, many minutes spent in the hammock and with the chickens. What I haven't yet done, what I've been waiting for today to do, is to write more on the sequel to When We Were Mothers. I'm excited to get back to it, though I'm pretty sure the 2000 words I wrote last Friday will end up in the digital graveyard. After I finish this note to you (I'm giving myself an hour), I'll work on next week's column for My Self-Pub Life (another hour), which is due today, and then I'll dedicate the rest of my long work day to the sequel.
What's Exciting Me?
Last weekend was magical. I spent Saturday evening and Sunday morning at a house on Lake Winnipesaukee in New Hampshire with four other women. We had dinner and dessert, discussed the book we'd read for the weekend (Black Cake by Charmaine Wilkerson, which I talked about last week), swam in the pool, and played games like Cards against Humanity and Incohearent. (This last one turned me as red as I've ever been.)
Let me tell you, the value of spending time with a group of supportive, open women cannot be understated. I enjoyed myself so incredibly much, and I was sad to drive away on Saturday afternoon.
But not too sad, because my destination was the venue that will forever be known by New Englanders as Great Woods to see Matchbox Twenty and Matt Nathanson. It was one of the most enjoyable shows I've ever seen. Matt is a regular standup comedian up there ("You probably know this song from Home Depot."), and he's also from the next town over from where I live, so he embedded lots of local references that we all appreciated. I've been on a high from that concert (and not just from all the secondhand smoke) all week.
And then yesterday happened. I was minding my own business (or, really, minding everyone else's business) with my notifications off, cooking dinner and trying to facilitate a Zoom meeting for one of my kids while waiting for my husband and one of the other kids to get back with an essential ingredient and trying to prevent the third kid from burning the house down or putting a hole in the television with his "wrecking ball," when I happened to pick up my phone and see a text come through from a local friend of mine.
"They're talking about your book on NPR," the message said.
And then I melted. The next 20 minutes were a flurry of activity involving opening my WBUR app and trying to do time-subtraction (not my strongest kind of subtraction) to find the segment, while simultaneously not burning bacon and getting my kid logged back onto my computer. The husband and other kid walked in just as I found the segment, and I turned up the volume and shoved my phone at them. He must have thought I was crazed, because while you're supposed to be happy about things like this—and I was!—I was sobbing uncontrollably. "That's my book!" I cried at him.
"Okay, okay!" he said, still not understanding.
"On WBUR!" I said.
"Good luck, Mom," said the oldest before disappearing upstairs in a cloud of cringe.
I didn't even get to listen the first time around, because the bacon was burning and I needed to make the hash browns and the baby had found a lollipop the size of his head and it was dripping down his wrists. But my husband, having processed my ugly joy for what it was, isolated the clip for me, and now I get to listen to the When We Were Mothers Beach Reads recommendation on loop whenever I want.
Fiction writing doesn't pay! Support my work for $50 per year, and your contribution will be put toward the production of the When We Were Mothers audiobook!
What's Entertaining Me?
📺 I've watched very little TV since we last talked, but I did watch Cocaine Bear. I had no interest in seeing this film, but I really like director/actor Elizabeth Banks and decided to give it a try, and I'm glad I did. It was so freaking entertaining. I had to shield my eyes more than a few times (for someone who wanted to be a brain surgeon, I really cannot handle gore), but otherwise I was laughing at the absurdity of it all and genuinely entertained by the overall agnosticism of plot and character. It was dumb as hell, and it was just what I needed.
📖 I'm finishing up No Adults Allowed by
, and I can tell some climactic action is right around the corner. I won't spoil anything, but I'm excited to see where all this ends up and who are the puppet masters pulling the strings in this autonomous-but-maybe-not-so-autonomous society.
🎶 Matchbox Twenty, of course. They played, I think, every hit/single they ever had on Sunday night and were entertaining the whole time. "Bright Lights" has been running on loop in my head, but I was really there for "Long Day." That was the first Matchbox Twenty song I ever heard, though I didn't know it. I had fallen in love with the song after hearing it on the radio, but that was back before the internet and I thought it was lost forever until I bought Yourself or Someone Like You. They delivered on the promise of that song at the show, and I love that a song written almost 30 years ago by some very young men without spouses and children and the like has aged so well that my 40something self can still relate.
In the months between getting the ticket and picking up my friend for the show, I had forgotten that Matt Nathanson was opening. It was just an extra cherry on top of a really fabulous weekend. I used to go see Matt at small club shows around here when I was in college 20+ years ago. I chatted with him at the merch table, which I will never fail to tell you when his name comes up (even if I've already told you a thousand times before), and of course that means I bought all his independently-produced CDs. I really devoured his older music. I remember hearing him on Days of Our Lives ("I Saw") once and rushing to buy Beneath These Fireworks—I think the first commercial album he released. I wish he'd played some of that older music, but I get that it wasn't his place or his job as the show opener to do that. He did his job well, too—getting everyone, regardless of whether or not they'd ever heard of him, excited for the evening to come.
What's Enlightening Me?
In a word, connections.
I'll be honest: I've been pretty down about my book sales. Things are going more slowly than I wish they were, and it seems every time I have a bump it's because someone (usually someone I know, someone local) is doing a book club. Which means few people are finding my book organically, which means when I run out of friends and acquaintances who want to do book clubs with my book, no one will ever buy my book again.
I've also been down about writing the sequel. I have too many other streams running, streams I can't turn off, and it seems the book writing is the one that continues getting squeezed to a drip. One such stream, which takes up a LOT of my time and energy, is the local news publication that I started in early 2022. I work hard to produce the publication and to connect with readers, local officials, and businesses. And just about every bit of media attention I've gotten over the last six months since the book came out has been about the news publication and not the book. Which is exciting but also frustrating. I often end up thinking, "I'm really a fiction writer and that's what I want to spend my time doing and talking about."
But here's the thing. I am reasonably certain that the radio station that aired the feature only knows about my little self-published book baby because of the connections I've made via my local news business. Without that business I wouldn't have connected with this person, who encouraged me to reach out to that person, who read the free digital copy of the book I sent to them and knew just the right person to reach out to and recommend the story. Or maybe a handful of my people, those amazing people like you who write the name of my book in every "What are you reading?" social media post, reached out. Or all of the above, and then some. But I'm confident none of it would have happened without connections.
I started the news thing because I'm passionate about it, and because it's meaningful to my community. Just like my fiction writing sparks my passion and is (hopefully) meaningful to the community of people who read it. Just two unrelated things that are more connected than they might seem.
I have more to say about this, but I've already taken twice my allotted hour and written more than I meant to. I'll be back next week.
Until then,